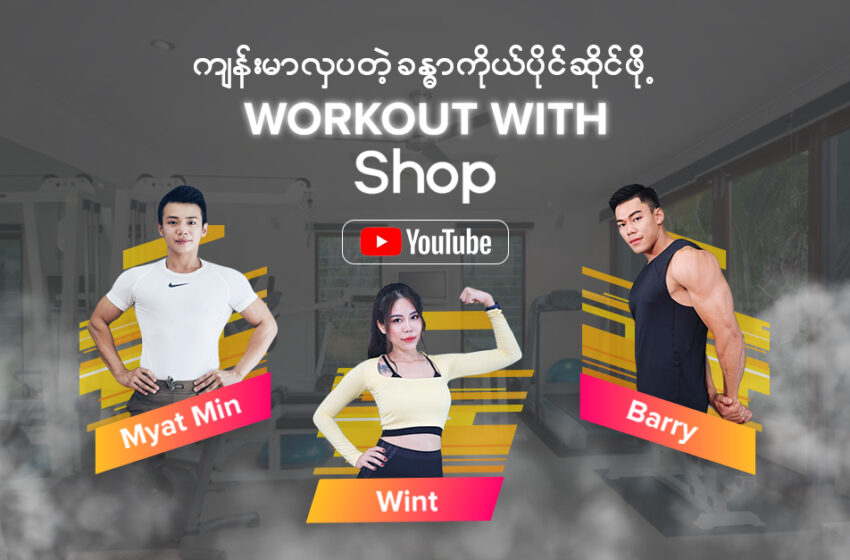 Stay at Home, Workout with Shop App
Do you ever feel boring to go to the gym?
Do you ever wish to bring home gym with professional trainers? OR
Are you a beginner who is looking for a basic trainings for FREE?
We are is now offering FREE online workout videos on our Shop App MM – YouTube channel with Burmese-speaking professional gym trainers with ZERO COST.
So, what are you waiting for?
Grab a towel,
Prepare to sweat, &
Get ready to feel strong.
No matter your age or gender, a healthy body is the key to improve your daily performance.
1. Tabata Training – by Trainer Barry
If you want to burn all of your calories within a few periods, Tabata is a great high-intensity interval training for your weight-loss journey. Professional trainer Barry will give you some tips on how to do it effortlessly.
---
2. Abs Six-pack Training – by Trainer Myat Min
As both men and women are obsessed with abs nowadays, our professional trainers will guide you on how to work it out systematically. The abs not only provide appeal-looking but helps your sport performances, postures and prevents lower-back pain.
---
3. Booty Training – by Trainer Wint
If you are building up your self-confidence regarding your body, well-rounded healthy booty, thigh and legs are one of the main cores. This training will surely benefit both confidence and a healthy lifestyle for you.
---
4. Men's Full Body Training – by Trainer Myat Min
Fitness trainer and social influencer Myat Min will guide on how to make an effortless daily workout for every man. It is easier to follow if you have proper fitness equipment. Let's check the video below.
---
5. Women's Full Body Training – by Trainer Wint
Professional female fitness coach Wint knows exactly which exercise steps women need for daily. Let's watch now.
---
Save your energy, time, money and start your fitness journey with us.